Linear vs. Nonlinear Escape Room Games. Which is Really Better?
I am sure you have heard about this popular trend, but it is hard to understand the concept before you actually participate in one for yourself.  An escape room is an immersive adventure in which you and your friends use your sleuth and prowess to solve a series of puzzles, unlock secret doors, and eventually escape entrapment. These life-sized brain teasers come in all shapes, sizes, themes, and categories. The two main types are linear and nonlinear escape games.
I am here to help you understand these 2 common types of escape room games. This post carefully spells out everything you need to know about these two basic categories, what a flow map looks like for each type and information on which escape room you should try depending on your group. Onward to knowledge!
Vocabulary to know
Escape Room – A themed adventure in which you and a team work together to solve a series of logic puzzles in order to complete a mission.
Metapuzzle – a puzzle that unites several puzzles that lead into it.
Linear – Arranged in or extending along a straight or nearly straight line.
Nonlinear – Not denoting, involving, or arranged in a straight line.
Multilinear – Having, consisting of, or involving many lines; linear in several respects.
Linear vs. Non-Linear Escape Games
Whether a game is linear or non-linear comes down to the puzzle flow. It is widely believed that non-linear games are a bit more elaborate than linear games. Next, let's get into what exactly they are.
Linear
Here is the basic flow of your standard linear game:

As you can see, the flow for this type of escape game is fairly simple. Solving one clue will give you the object to solve for the next clue, and so on and so forth until you escape. Puzzles in a linear room must be solved in a particular order. This is an excellent escape room type for smaller groups as you will likely be working on a single puzzle at once. This type can also be called "linear path".
Nonlinear
Here is the basic flow of your standard non-linear game:

This escape room type adds a bit of depth to your game. Players will solve 3+ puzzles in order to unlock all of the items required to solve a more complex metapuzzle. Puzzles in this room do not need to be worked on in any particular order. The items you unlock will often come together to solve a single clue or metapuzzle. This type can also be referred to as an "open path" escape room.
Combination
Here is an example of the basic flow of your standard multilinear game: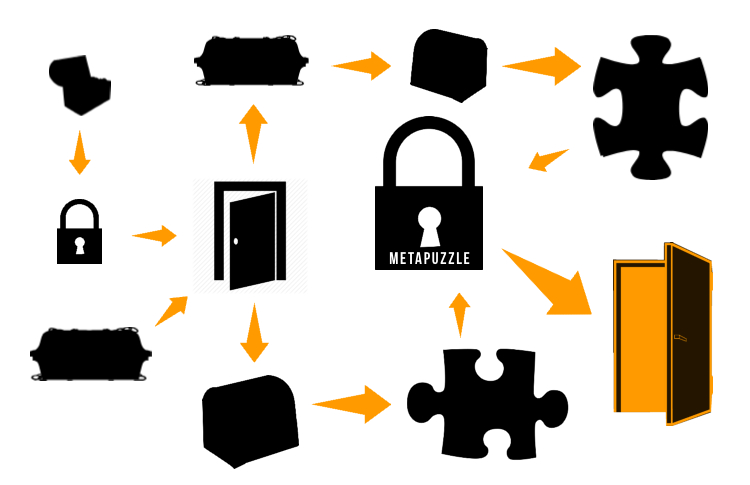 Multilinear games are a thing too! This escape game type incorporates aspects of both linear and non-linear game types.
Main Difference between Linear and Nonlinear Games
The main difference comes down to how many puzzles you will be working at any given point and the overall complexity of the game itself. Both have their benefits and drawbacks.
When it comes to linear games, you will be solving one puzzle to get the items to solve the next puzzle, and so on and so forth until all of the locks are undone and you have the exit code. This is the less complex option of the 2. I find that these types of escape games work great for smaller groups because you will be solving for one puzzle at a time, which is excellent for building teamwork amongst 2-4 people (if you have too many heads, this can get a little crazy or move too quickly).
On the other hand, nonlinear games are a bit more complex and require some multi-tasking to complete. You are solving for a handful of puzzles whose contents will eventually be combined to help you solve a single, larger puzzle (or metapuzzle). These games are great for larger groups of people as it allows you to break up into groups and solve multiple puzzles at once. That way we don't have 6+ heads crowded around 1 puzzle!
You can also have your multilinear room, of course, which combines the two categories for one epic adventure loaded with twists and turns. This is the type of escape room you see at Big Escape Rooms.
Which is a Better Choice?
Choosing which type is right for you comes down to a few simple factors.
If you're looking at creating an escape game for yourself, you will want to focus on a few important factors when deciding which option to go with. Consider how much space you have where you are building it, the time limit you can allow, what kind of supplies you have or can get, how many people will be playing your game at once, and how much time you have to devote to constructing a complex game and storyline.
If you are looking to play an escape room, it can be tough to know which type is the best choice. Remember that there are dozens of escape rooms out there that all offer variants on these basic types we've covered. Call into the escape room of your choice and ask for details on the experience! They can help you decide on the right game for your group. Let's go which game option is best based on these two factors:
How large is your team?
Have you done an escape room in the past?
If you have a Large Team
Definitely look for a non-linear or multilinear escape game. You can call in and ask questions on the complexity/type of the escape games at the facility of your choice. This option is especially great for corporate event teams looking to build teamwork because it requires a bit more planning and communication to work through this type of game.
If you have a team of 1-4 Players
Either option can be fun for this, depending on what your goal is in the escape room. Most of the time, you are just there to have fun so it doesn't matter which game type you choose. However, if you're going into the game with the goal of bonding with your teammates, go with the linear option. You will be able to work closely together because there will be 1 puzzle to solve at a time.
If you are an escape room veteran
You may enjoy the non-linear option. The games are a bit more complex and will make for a bigger challenge and require more planning and coordination.
If it is your first escape room
Consider the linear option just to get a feel for how an escape game flows. You'll also get the chance to see what kind of things to look out for/ignore. And hey, if you're feeling adventurous why not challenge yourself with a more elaborate, nonlinear game? A challenge is always fun!
Keep in Mind
You are going to have an amazing adventure no matter what kind of escape room you are in. It's all about putting your minds together to solve puzzles. All it takes is 1 or more close friends or family members to have a memorable experience!
Click here to sign up for our Atlanta, GA location, and click here to sign up for our Silver Spring, MD location!