What I wish I knew the first time I did an escape room
So, you've been invited to an escape room game celebration and you have never even heard of one before ( I call it an escape room game because some people call them escape rooms and some people call them escape games). The thought of being locked in a room and trying to escape does not sound fun at all and you can't help but wonder why anyone would do that to themselves. Your friend from book club Maxine insists it is super fun and that you will be trying to save the world form the zombie apocalypse but…. that doesn't really explain what the heck you will be doing.
I know what you're thinking:
"Wait what? I can't math! I can't run! How the heck are we supposed to do that?"
Strap in because I am going to help you understand exactly what you just got yourself into. We broke it all down for you and included everything you need to know for your first escape room adventure, and even included a little puzzle to give you an idea what kind of things to expect!
What is an escape room game?
As a game guide I get asked this question a lot because, quite frankly, the whole escape room game trend is a fairly new concept.
You are either in a generic room with no story line what-so-ever, or you are in a themed room and are tasked with completing a specific mission. Upon arriving at the escape room location, your game guide or game master will explain your whole mission and even sometimes get into character to make things more immersive.
Your mission can be anything from formulating the cure for the zombie outbreak to escaping a killer clown's fun-house before he makes you his latest victims. No matter the theme, one thing is sure – you are trapped in a room and you have to get out! Anything and everything can be a clue… or a distraction… so stay sharp.
Sound great. But how do you actually "do" all that cool stuff?
Inside the escape room are unique puzzles conceptualized by expert game designers with you in mind! The game designers are careful to give you exciting and intriguing puzzles to keep you immersed for the duration of the experience. Not only that, but these expert designers keep teamwork in mind in all the puzzles they create to make it an experience that is not only fun, but beneficial to building strong relationships.
It is extremely entertaining to wander around a strange room with loved ones when you all have a collective purpose!
You will have to solve all of the brain teasers/puzzles/logic puzzles/mazes in order to complete your task, and get out the exit door. Some puzzles are more complex than others. Upon solving puzzles you will likely find codes to open up various locks in the room. When every lock has been opened, you know you are close!
Solve all of the brain teasers in the time allowed and – you're free! Still in the room when the timer runs out? You lost this time! Watch this video to learn even more:
---
---
---
---
---
---
Escape rooms can have anywhere between 5-30 puzzles of varying difficulty to solve in a single room. Here's an idea of what kind of puzzles to expect… Scroll to the bottom to see the answer!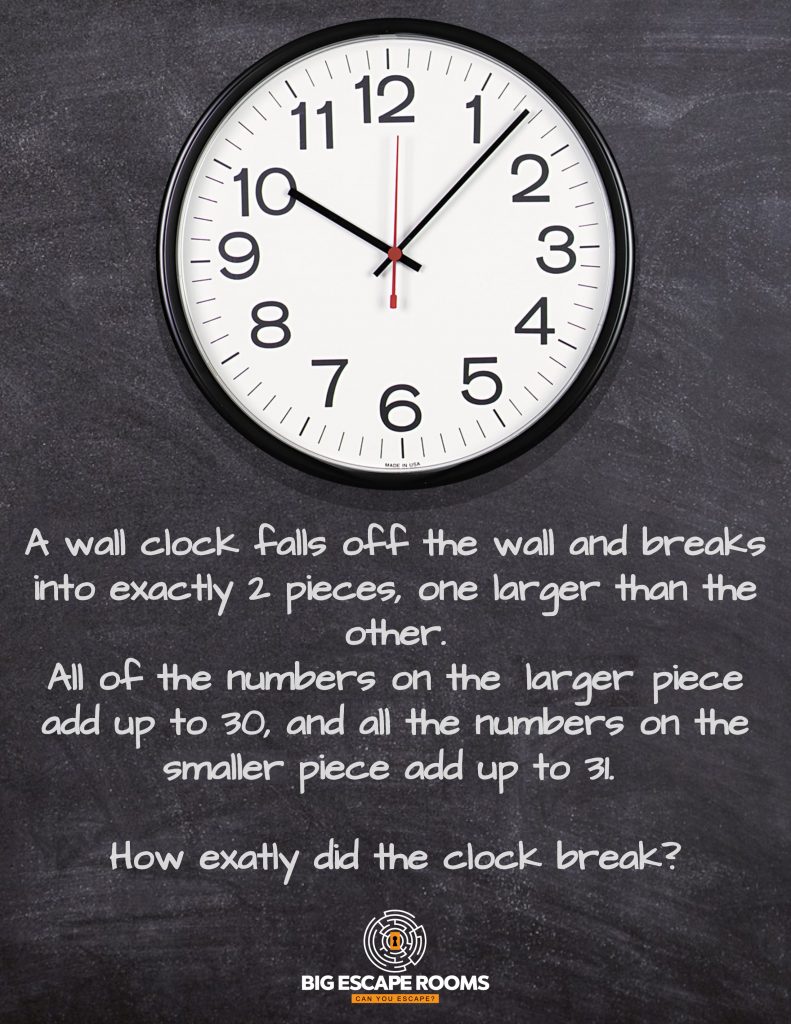 Q&A with a game guide
Take notes! The human answering these questions has been an escape room game guide in Atlanta.
Who can do an escape room game?
Don't worry, you won't need to be particularly fit or even very well educated to go to one of these exciting, mysterious Escape Room games. Escape Rooms are designed to be enjoyed by literally anyone because none of the various tasks you come across require any physical force or particular information that is not provided for you in the room. You have everything you need to complete your seemingly intimidating mission. Escape rooms are designed to be completed and enjoyed by all ages – 8 to 100!
I say most because if you would prefer, you can go to specialized escape rooms that require strenuous activities or even have horror elements to them and they will generally specify this prior to the experience. That being said, a vast majority of escape room games are not like that at all- challenging puzzles yes, but virtually anyone can do them. Make sure you reach out to the escape room you plan to visit beforehand just to be sure you have no surprises to expect. Big Escape Rooms are one of those kinds that are made for everyone, any age!
Can I bring my children/grandchildren?
Absolutely! Children can have a fun time in escape rooms too. I would definitely recommend setting aside the easier puzzles like jigsaw puzzles, or collecting parts of a puzzle hidden around the room for the little ones. Not only do they have a blast helping but you save time for solving the more complex puzzles!
Will they need supervision?
Depends on how old they are. The youngest unsupervised group I have ever guided was a group of 5 and 6 year-olds. I anticipated that they would struggle with the tougher puzzles, so I simplified the game a little bit to make it fun for them and offered them as many clues as they wanted and helped them get locks open if and when necessary. You can call ahead and ask your game guide to do this for you. Most escape Rooms are happy to oblige!
I had a group of 8-10 year old kiddos actually solve the puzzles themselves! Any younger than 6 and an adult should certainly accompany them.
What is the Right Occasion for an Escape Room Experience?
Literally anytime. I have had so many types of celebrations I am beginning to lose track! good occasions would be:
Bachelor Parties
Bachelorette Parties
Birthday Parties (any age)
Family Reunions
Work Parties
Work Meetings (ask about team-building reports!)
School Field Trips/Events
Team Building Events
Proposals
Girl's Night Out
Ice Breakers for New Coworkers
Educational Purposes
Just for Fun!
One thing is certain – everyone leaves after having an amazing experience feeling closer than ever to their team!
What do I need to know before I go?
Nothing. Come as you are! An Escape Room Game will provide you with all of the information you need to know. Let's say a clue asks, "What year did Big Escape Rooms open it's doors?", don't you dare Google it! Start searching the room because everything you need to know is hidden somewhere inside those 4 walls. Practicing with logic puzzles may help you though…
Are all escape room games the same level of difficulty?
No. Escape Rooms are generally rated for their level of difficulty with a success rate percentage. Simpler room will likely have a 30-50% pass rate, where as more difficult rooms range from 5-30%. There is usually a good mix of difficulty at whatever escape room you decide to visit. If you want to prepare yourself then check out escape room video games on the computer or practice with basic logic puzzles.
I have visited all of the Rooms at Big Escape Rooms. What's next?
Fret not! There are hundreds of escape room companies, therefore hundreds of unique escape room experiences to check out! Of course, if you run out of escape games in your area you may want to chill out a bit… or take a road trip to the next town over!
Should I Bring Anything with me?
You do not need to bring anything with you.
Escape Rooms provide you everything you need for a fun, action packed adventure!
Are there Handicap Accessible rooms?
Yes. Escape Room Game companies are very much willing to work around your individual preferences and needs, such as providing a chair for sitting and including a panic button you can use to leave at any point without disrupting your game. Big Escape Rooms is, but some escape rooms may not be wheelchair-accessible so be sure to call ahead.
How long do we have to escape?
A vast majority of escape rooms give you 1 hour. Some are as long as 3 hours and as brief as 30 minutes. At big escape rooms, we have one escape room game that is 45 minutes, and three that are 1 hour long.
What happens if time runs out while we are still in the game?
You have two options if you don't make it through within the time limit:
We will walk you through and show you the rest of the game and show you what puzzles you missed
We will leave it a surprise so you can come back and try again!
Totally up to you which you want to do. Oh and, one more thing- you have to take LOSER PHOTOS!
Does an escape room game require physical agility?
I cannot stress enough that ANYONE can find an escape room that suits their individual needs and preferences. At Big Escape Rooms, puzzles never require forces, and there is never a need to crawl through tight spaces or even step up over barriers. It's all about the brain! Dozens of mind-bending puzzles are in the escape room game to keep you entertained throughout your entire hour (or less if you're good at them!).
Will we be in the room with strangers?
There is a possibility as each room at Big Escape Rooms can host up to 12 people. If you decide to buy only two of those spots, there is a slight chance somebody else will book the same time slot. However, you can book a private room and ensure that the hour is solely for your party! It is definitely worth the extra cash to reserve a private experience.
Am I safe?
Absolutely. Your safety is the #1 priority! If you think it may be frightening and have a jump scare or two, ask your game guide to be sure. But don't worry if you scare easily! Most escape rooms, even the ones with horror themes, are not scary at all.
At Big Escape Rooms we have family friendly rooms (no scares). But, I have had a birthday party of teens whose parents were keen on us giving them a scare, so we did! It was a lot of fun for them as well as the game guide (me!). We are happy to personalize the experience to your individual needs and wants so just ask!
What if I need to use the restroom in the middle of our experience? Am I locked in for real?
You are not locked in. All of our rooms have a door exit button you can push to leave the room at anytime. Keep in mind the time will continue it's countdown while you are out of the room!
What is the recommended number of players?
6-12 players. I have seen people escape with 1-3 minds, but wins are far more rare with smaller groups. If you are looking to win bring a large group so you can split up and cover more ground in less time! But remember, winning isn't the reason you're here. It's to bond with your loved ones in a unique way!
Can I do an escape room game by myself?
You can! Like I said game guides are more than willing to personalize the experience to your individual preferences. Ask your game guide if the game is suited for one player when you arrive. One person games don't happen often so this will at least get them thinking about the game flow and if they need to change anything around for you. Escape rooms are designed for team work so it's possible they will have to change things around a bit. But there is always a way to make it work!
What should I wear?
It's up to you, you can dress however you like. No physical agility required!
It may be best to wear something comfortable.
Okay, But why do an escape room? What's the point?
There are tons of benefits to doing escape rooms. They considerably effect various ares of your overall health and well being because escape rooms are great practice with various life skills such as:
Time management
Communication
Organization
The ability to work under pressure
Synergy within a team
Puzzle solving
Aside from all that good stuff, escape rooms are a BLAST! You really can't go wrong with enjoying an escape room experience.
Where did escape rooms come from?
Great question, and one I love to answer. The first escape room games were completely digital and completely theme-less. Crimson Room was an online computer game and the first in the genre. This was the original inspiration behind it all. In the computer game, you poke around a seemingly normal-looking room to solve puzzles and collect items and eventually unlock the door out. Toshimitsu Takagi created the video game in 2004 as a flash game and then it quickly took off and inspired many similar titles.
A company called SCARP developed the first real life escape room and opened the doors to the public in Japan in 2007. The first escape room game was a hit!
Today, you can find countless variations of the game all over the world like mobile escape rooms built on old school buses, outdoors, and even giant multi-room escape adventures- like Big Escape Rooms! There are over 5000 Escape Rooms in existence today.
I am in it to win it! Is there any way I can prepare for this experience?
Check out my escape room tips and tricks blog. There, you can find dozens of tips to help you out in having a successful escape!
Remember the "Crimson Room" game I mentioned? Well there are dozens like it online that you can play. Escape room computer games are an excellent way to prepare for the real deal. They also have endless apps with detailed escape room games you can play on your phone!
Real People speaking about their escape room experience:
Here's what some real escapees (or attempted escapees!) have to say about their experience. I tried to include reviews with any many details as possible about the rooms themselves. These are all reviews from real customers about what they thought of their experience doing an escape room game:
"We did the Pharaoh Room – great clues. Fun for history buffs and thrill seekers, not too scary, great design and scene setting. Needed clues! A perfect challenge." – Casey

"Fantastic place for groups and couples. My colleagues and I were able to have an outside of the workplace fun and adventurous time putting our heads together to escape the Clown Room and Outbreak. Big Escape Room exceeding my expectations!" – Anderson

"Family of four (11 year old and 8 year old) escaped the Basketball locker room! Challenging, but we worked together to get out in time!" – David

"This was my first experience in an escape room and I absolutely loved it. I felt like I was in a movie the whole time and it was insane. Finding the different combinations was really fun but difficult. It wasn't too easy and the difficulty was perfect for anyone to get after some thinking. Customer service was great too." – Joseph

"Great experience! It was my first time doing an escapes room and I was not disappointed. The riddles were challenging but not too challenging and it was surprisingly tense during the duration of the experience. Would definitely recommend!" – Amir
Hear what these guys have to say about their escape room experience:
How did you do? Think you have what it takes to escape from a real escape room game?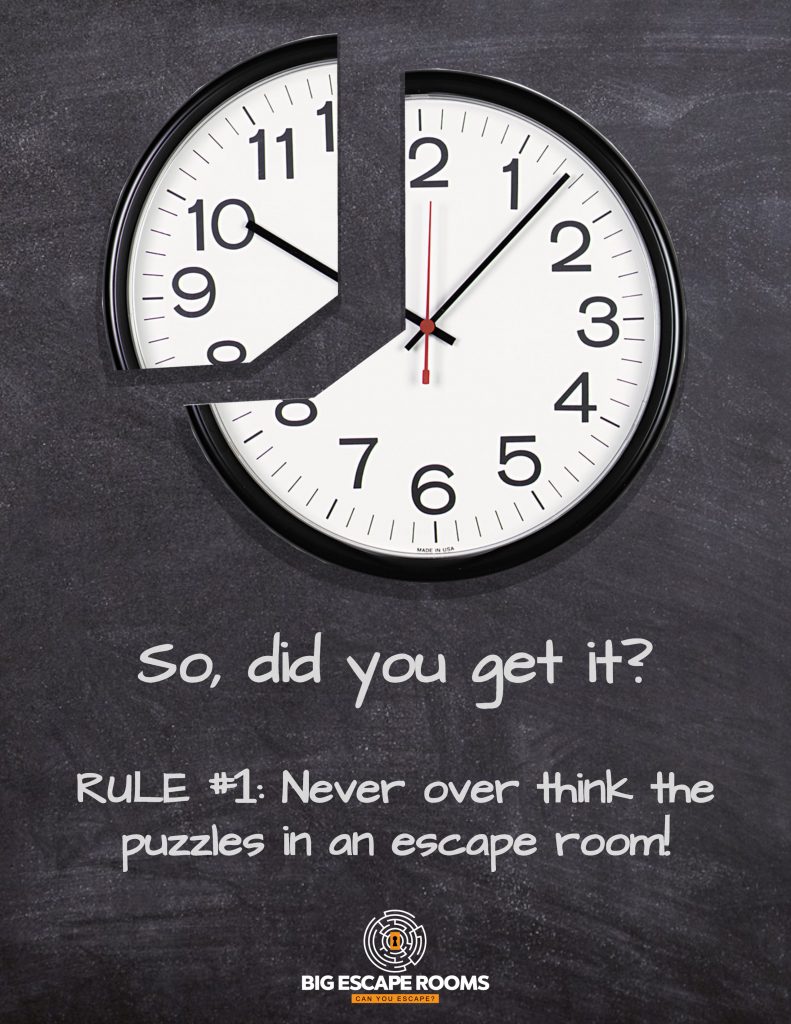 Did you answer the riddle? Know any other great riddles? Tell us about it in the comments!
We would love to hear from you.