The Surprising Story Behind Our First Escape Game
The first escape game ever played at Big Escape Rooms was on October 1st, 2016. Outbreak was the name…
Since building our first game "Outbreak", we have worked our way up to the top of the Escape Room industry due to our love for the concept of the escape room. Being able to conceptualize a game with a complex storyline, integrate all sorts of unique and sometimes recycled team building puzzles, and finally, to see it all come together for all types of people to enjoy in the recipe for a great deal of joy indeed! A lot of very meticulous planning goes into building these games and getting to see people connecting the dots you drew out is truly so rewarding. Due in great part to our customer experience/feedback and the intricacy of our games, we are proud to say Big Escape Rooms has claimed many notable titles over the last 2 years of operations. Just to name a few of those titles:
Here is the story of Big Escape Rooms' most popular and first game, Outbreak. Find out if the first group to play escaped, the inspiration behind the storyline, hear from its' creators, and much more!
It All Started With an Idea
Rajeev Kaila and Teja Garisa are Big Escape Rooms proud creators, and owners, and operators. In fact, they created the first games here at BER. They have since passed some of the responsibility of creating the rooms to their skilled game designer, Charlene Mayne. (She is working on our newest game as of October 2018, stay tuned to see its theme and release later this year!). But before they could go recruiting game designers, they completely structured BER's Outbreak in all is zombie-rific glory. Conceptualization of Big Escape Rooms' first game began in the late summer of 2016. Soon Outbreak would become BER's most visited escape game.
Rajeev is certainly a very business minded individual. Previous to Big Escape Rooms (and currently), he has owned a handful of businesses. He was looking for a NEW business venture but a lot of the options were… boring, to say the least. It was time for an exciting and rewarding change- something fun. Rajeev had heard about the new Escape Room craze "infecting" the world, and he wanted to know more. After some convincing, he teamed up with Teja to create an Escape Room of their very own: Big Escape Rooms. That is when Teja, the creative mind, began conceptualizing the game itself.. and choosing the theme was their next challenge! One thing is for sure, owning an escape room was an exciting change to their past endeavors and they are never looking back!
The Inspiration Behind the Story-Line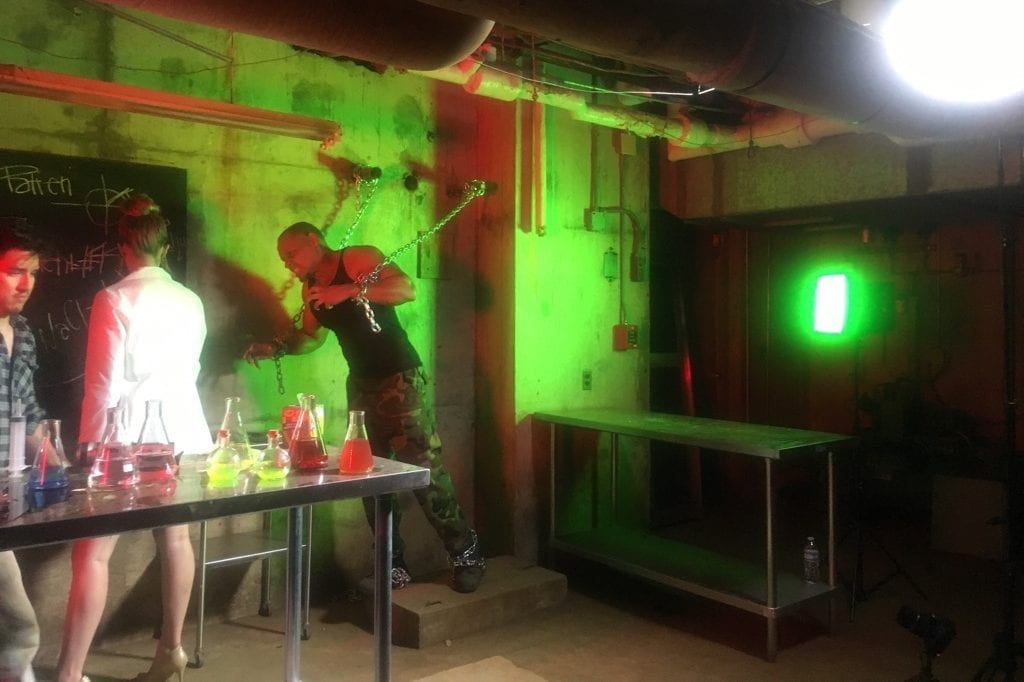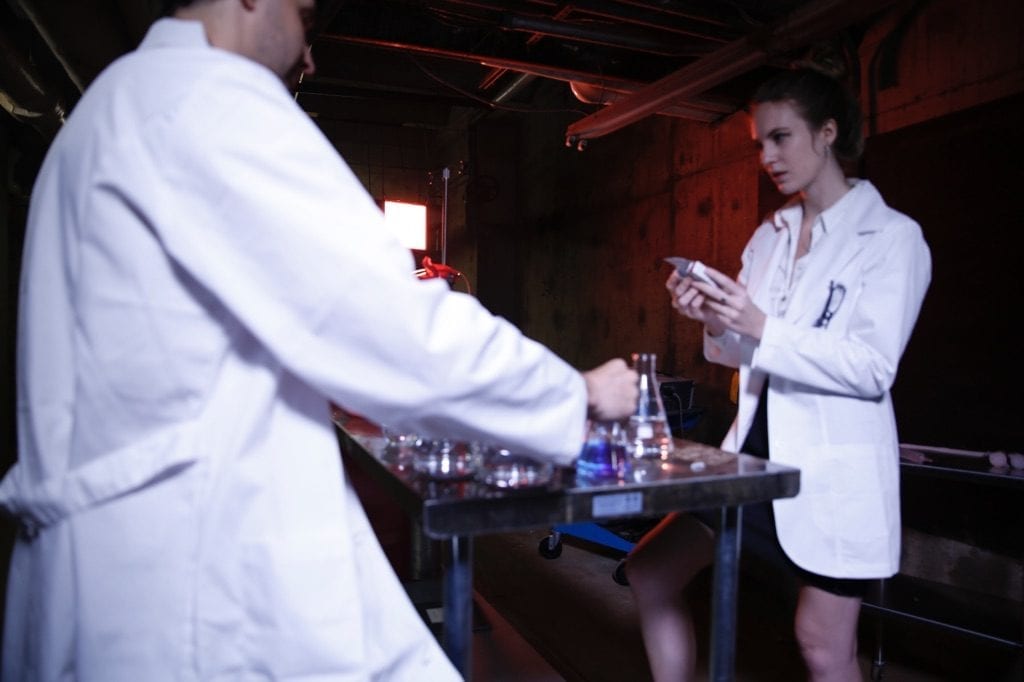 Once they settled on the idea of creating an Escape Room, it came time for the construction of the game. Believe it or not, a zombie apocalypse theme was not that first idea. Some of the other contenders included:
Clown (which has since been created)
Pirate
Space
Pharaoh (which has also been created)
I was genuinely curious about one thing…Why did Outbreak make the final cut? What gave them the idea for zombies? I sat down with the creative mind behind it all, Teja G, and got some answers:
Q: Why create an Escape Room?
"Raj is more of the business-minded part of the partnership, whereas I was more comfortable in the creative side of things. Rajeev has had several businesses before. The whole inspiration behind it all was that the businesses he had were kind of boring in comparison… In an escape room, people come to have a good time! Seeing people having a fun experience with their loved ones is very rewarding. It was a nice and interesting change to things."
Q: What inspired you to choose "Outbreak" as the theme for the first game?
"Rajeev came to me with the idea to create an Escape Room. Instantly I started thinking of possible themes we could make happen. I was reminded of times when I was younger and my sister and I would discuss how we would survive a real zombie apocalypse. You know how kids think about those kinds of things! A zombie outbreak seemed like an interesting scenario to be put into!"
Q: What is it like to see people solving a room that you created?
"Amazing. The best compliment is when I see people in the room surprised when they find a trapped door or laughing with their friends when they uncover a clue. The excitement people have in the room is the best and it just feels great to see! We have been lucky to have such amazing customers visit who have not only visit us and enjoy our rooms but also gave us really valuable feedback on how to constantly improve ourselves and the experiences we provide."
There you have it. Childhood conversations with her sister were the inspiration! How sweet!
Creating the Game
They started by creating a goal for the game. The zombie apocalypse is a pretty broad theme. The story-line they decided on is as follows:
The Ilheus Virus has broken containment and infected nearly the entire population after a military experiment to create super soldiers went entirely wrong. You and your team are some of the last known survivors of the recent zombie outbreak. Doctor Johnson didn't make it… you are the last hope to formulate the cure to save humanity as we know it! There is just one catch… the lab is set to self destruct in one hour! Can you uncover Doctor Johnson's secret lab and formulate the cure before time runs out?
Next task is creating the clue flow. This part of the design process is not an easy task. You have to make sure to choose unique and intriguing puzzles that fit the theme of the room. Everything you decide on needs to match up. A space themed room would never feature rusty old medieval style locks!
A nonlinear escape game is when you find several leads that at a later point bring you back to the line. For example, several clues will need to be solved and the several items you find will all come together to solve one, more complex clue. The opposite is linear. Linear game flow is when you unlock Box A whose contents help you unlock Box B which helps you unlock Box C and so on and so forth until you escape. Outbreak is a more complex, nonlinear escape room.
Hopefully, you can see my point here- Outbreak has a clue flow that took a great deal of meticulous planning to create. All in all, it took 2 months of planning for Teja and Rajeev to have Outbreak in its final flow…. on paper.
The build-out

Lights, camera, ACTION! There is also a video that kicks the whole game off. Upon entering the escape room, Doctor Johnson comes onto the screen. Before his untimely demise, he gives you a little message about what is going on. This video brings the whole game to life, gives Doctor Johnson character, and is a key factor in the immersion of the game.
Interestingly enough, the video for Outbreak was filmed on site at the escape room. It was filmed downstairs in the basement of the building and outside in the courtyard. The picture above on the left is a clip from the basement, and on the right is a clip from the courtyard.
Filming took 3 weeks to complete, and the finished project is a masterpiece! Click here to see the full video.
Constructing Outbreak in all its glory seems like a daunting task. Surprisingly, building it took half as long as it did to conceptualize. They were able to complete the build-out of Outbreak in just 1 month thanks to the help of a team of skilled contractors. On October 1st, 2016, conceptualization, construction, and content were all complete. Big Escape Rooms was ready to open its' doors for the first time!
Opening Day
Two groups came in to try our game on the first day it opened. They seemed to really enjoy their experience, and that motivated us to continue growing and evolving our customer experience. We never expected to come so far so quickly. Our customers are so valuable to us and we cannot get enough of seeing you guys enjoying our many rooms!
These two groups will forever go down in escape room history as the first to play a game at Big Escape Rooms! One of the groups made it through, and the other came close. Help us find these guys. If you recognize them then send this post over to them so they can see their legacy as "the firsts to escape"!
Outbreak is as infectious as the virus in the story-line. Since these two groups came through, we have seen well over 3,000 people escape (eer… almost escape) Outbreak. This game remains king at Big Escape Rooms as our most popular game, though Pharaoh is catching up rapidly! I guess folks enjoy a challenge because Outbreak is our most difficult room and is often referred to as one of the most challenging escape games in Atlanta. Since opening day, we have worked out a pass rate of 19% Outbreak. Join the thousands and give it a try! See if you have what it takes to save the world! Can you escape?